Main content starts here, tab to start navigating
It All Started with Two Boys who Love Slow-cooked Georgia Style BBQ (and Skiing)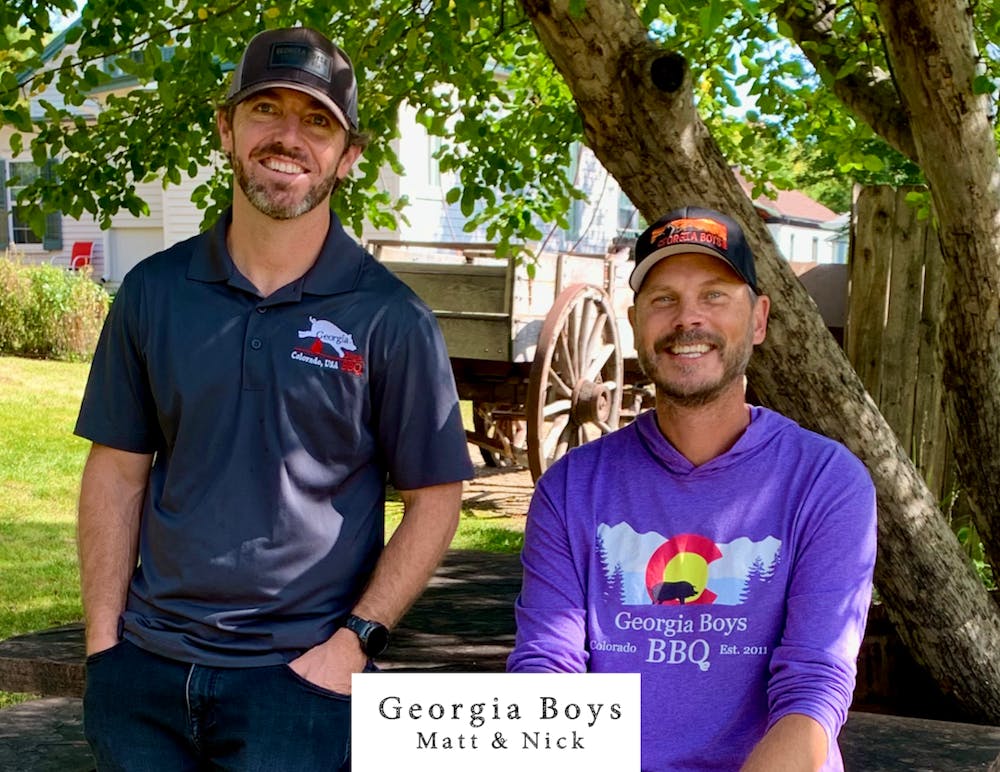 Seeking a Rocky Mountain Lifestyle
While loving the South that they grew up in, two adventurous boys from Georgia felt the calling of the Colorado mountains. At the young age of 29, these two fraternity brothers packed their trucks and headed west to pursue the Rocky Mountain lifestyle.
They found jobs to support their love of skiing and snowboarding but soon found themselves being laid off within a week of each other during the peak of the great recession. With an epic ski season unfolding and their passes already purchased, leaving Colorado was not an option, so they turned to what they knew and loved – Southern BBQ!
Great Food in a Brown Bag
In December of 2010, these entrepreneurial friends started a brown bag delivery service of authentic Southern BBQ out of their apartments in Boulder, CO. Word about the Georgia Boys and their excellent BBQ quickly spread, and they were soon making enough money to keep them on the slopes. In fact, their BBQ was in so much demand that they started selling it in the parking lots of local breweries throughout the winter and early spring of 2011.
The First BBQ Shack
With some luck and a gentle nudge from the local health department, the Boys (Matt & Nick) found a commercial kitchen located in a tiny 100-year-old house in Longmont, Colorado. They converted the house into a BBQ Shack that was reminiscent of the small BBQ spots that they grew up with in the South, where iced cold sweet tea, great BBQ and good old Southern hospitality was always served up to friends and neighbors on the front porch. Matt and Nick opened their front porch to guests on July 1, 2011, serving slow-cooked Georgia style BBQ, some excellent side dishes made from scratch recipes that had been passed down for generations, and authentic sweet tea that made everyone feel right at home.
Expansion
Long days, sleepless nights, plenty of hard work and a lot of festivals later, they found themselves bursting at the seams and needing to expand in order to keep up with demand. A second Georgia Boys BBQ location opened in January of 2014 in Frederick, CO with an open patio, ample seating and a full-service bar that supported local breweries. They were quickly embraced by the growing community and word continued to spread about their great food.
In 2017, Georgia Boys BBQ was declared the best BBQ in Colorado by the Travel Channel and business was booming at both locations. Matt and Nick moved from the small house (the shack) into a newly renovated building located just across the street from the shack. The business was featured on a Travel Channel show called Food Paradise.
Overcoming New Challenges
The pandemic in 2020 brought some new challenges but the team at Georgia Boys quickly found ways to adapt so that the surrounding communities could still have access to great barbecue. In fact, it was during the pandemic that the first food truck was introduced, giving the community a safe way to "dine out" and enjoy award-winning BBQ when indoor dining in restaurants was closed across the state. 2022 saw continued expansion and a new Georgia Boys BBQ location opened in Greeley, offering private group dining and large casual dining areas. The Greeley restaurant also offers all season porch dining, making it easy to enjoy sweet tea on the porch all year long!
Catering, Food Trucks, and New Locations!
Georgia Boys BBQ has now expanded to include the Outpost Food Trucks offering a portable way to provide service for larger events such as company activities, community events, graduation parties or family reunions. Catering is also available for all types of gatherings, from small house parties to large corporate or private events. Georgia Boys BBQ has also expanded to Wholesale and Retail, offering their popular Sauces in grocery stores and other retail outlets across the front range. If you're from out of town and visiting one of their existing locations, keep an eye out for a new Georgia Boys BBQ opening near your neck of the woods. They are looking to share their passion for Southern BBQ and comfort sides across the nation.